Roof Painting Melbourne
Roof painting in Melbourne is a great way to restore the original look of your home. Whether you've got a Colorbond steel roof or roof tiles, homes in Melbourne look a lot better with a new roof paint job. There are many reasons why roof painting in Melbourne is so popular, so let's run through a few of them.
Climate
Melbourne weather isn't exactly forgiving. Or consistent either. In fact, the stereotype of Melbourne weather is that it changes all the time. One minute we've got torrential rain, and the next we've got blistering heat. Not only does this have a dramatic impact on our outfit for the day, but it also has an impact on the state of our roof. Heavy rain and boiling heat both take their toll on your roof's paint job, causing discolouration and paint fade. Repainting your roof protects your home from the harsh Melbourne weather and makes it look as good as new.
Affordable
Depending on where you go for roof painting in Melbourne, it will cost a lot less than an entire roof restoration. Royce Roofing experts may inspect your home and find that apart from the paint job, your roof is in adequate condition. If this is the case, then the only services you pay for is a clean and a recoat, saving you potentially thousands of dollars. Other Melbourne roofing businesses may tell you your roof needs more work than it actually does, so if you suspect this may be the case, get in contact with Royce Roofing today.
Modern products
The products we use to paint roofs have come a long way since the 1970s when roof painting in Melbourne first became popular. Back then, they hadn't quite figured out the winning formula for repainting roofs. This left many Melbourne homes with flaking, peeling paint jobs and many Melbourne customers feeling cheated and unhappy. Today, products have been proven to work, giving your roof a lasting paint job. Royce Roofing never uses less than one coat of primer and two to three coats of paint on your roof, guaranteeing an effective and durable paint job.
Preventative
Going back to the idea of our weather being temperamental in Melbourne, repainting your roof has another purpose, other than cosmetic. A new paint job can help to prevent damage to your roof and even seal small cracks in your roof which are likely to turn into larger ones. This is a preventative measure, ensuring your Melbourne roof has a long and healthy life.
With so many roof painters available in Melbourne, it can be tricky to pick the right business. Anyone with a paintbrush and a tin of paint could rock up to your place and call themselves a roof painter, so it's important you go with a highly regarded business with great reviews and loads of experience. For many years, Royce Roofing has been Melbourne's go-to business for everything roofing. If you need a recoat, it's a wise choice to go with Royce!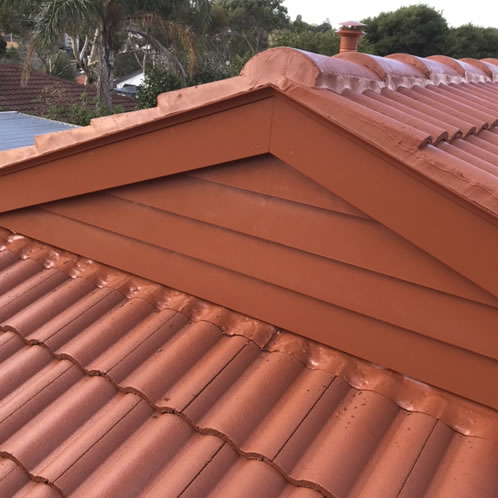 Use our REQUEST A CALL BACK form and we'll call you back with a quote asap.
Roof Tile Painting & Repainting Examples
Title Yard & Office:
5-6 Rosemary Court,
Mulgrave Victoria 3170
Free Call: 1300 080 567
Email: info@royceroofing.com.au