Terracotta
Terracotta tile roofs are amazing, but, even better than that, they are long-lasting. When well cared for, terracotta tiles can protect your home for up to a hundred years. You will enjoy them, they will protect your children, and even your grandchildren may live under the same terracotta roof.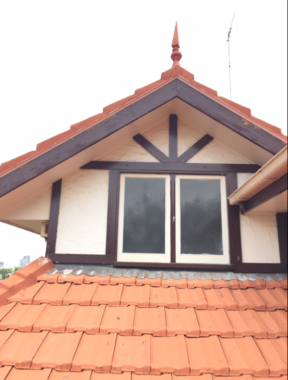 If you have purchased or built a home with a terracotta roof, you've made a good investment. You probably won't have to replace it in your lifetime. It would be best if you kept it maintained and well-repaired, though. Royce Roofing is here to help you do it.
Terracotta roofs can suffer from diverse problems. Tiles may crack and break. At times, they may slide down, leaving underlayments exposed to the elements. Cyclical freezing and thawing cause damage to tiles. Salts from environmental pollution may cause terracotta to corrode. Terracotta tiles are also victims of moss, lichen and mould. (this can be pressure washed etc) These growths cause more rapid deterioration and restrict the flow of water. Finally, metal features like valleys, vents and flashings may rust and cause leaks.
When you notice any damage to your terracotta roofing, you must act quickly. Even if you can't see any cosmetic damage on the exterior of your home, you may notice some tell-tale signs in the interior. Any water entry, staining, or mould means that you should take immediate action to prevent widespread damage.
If you notice sliding tiles, don't wait to call up roofing experts, like Royce Roofing. When terracotta tiles slide down, they expose the underlayments of your roof to the sun. Deterioration of the underlayments causes leaks and rot. In fewer than 90 days, the elements may cause extensive, irreparable damage to your roof.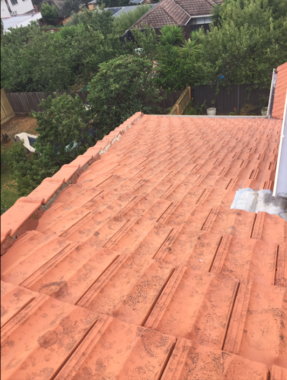 You need to worry about any damage that impedes the flow of water from your roof. If the edge of your roof is damaged, it may mean that some water is becoming trapped. This filters into the underlayment and rots it. Checking soffits for rust is one way to tell if this is affecting your terracotta roof. Valley failure and build-up of moss, lichens and mould can cause similar kinds of problems.
The experts at Royce roofing know how to inspect terracotta roofing for any of the problems mentioned above. We know what action to take in each of these situations. After we evaluate the condition of your roof, we will come up with a plan.
Keep in mind that if your roof has suffered from years of neglect and disrepair, you may need to consider reroofing completely. This is the case if more than half of the terracotta tiles are damaged. Of course, our roofing specialists at Royce Roofing will help you choose the right option for your home at a competitive price. We also stock a wide variety of roofing tiles so that you can pick the right ones for your home.
If your roof has sliding tiles, our specialists will reinstall them. We can replace cement mortar. In the case that the mortar shows minimal signs of damage, we can use a flexible pointing product to protect it from further wear and tear. We can replace your rusting valleys. Royce Roofing has over 200 different kinds of roofing tiles in our stockyard. If we need to replace some tiles on your roof, we will find the right match. We can remove any moss, lichen and mould with a pressure wash.
It is essential to know that clumsy repair work performed by someone unfamiliar with terracotta can cause extensive damage to roofing. For example, using sealant instead of mortar can trap moisture in terracotta tiles. Another common mistake is applying an impervious coat which also traps moisture. This trapped moisture will cause terracotta tiles to corrode more quickly. Royce Roofing are experts in terracotta, and we know the right way to care for your roof.
Please don't hesitate to contact us by filling out the form here on the website. We will get back to you quickly through an email. You can also call us with your questions about roofing at this number. We love giving helpful answers.