Shingles
A roof over your head is essential. It keeps you dry. It keeps you warm. It keeps the sun from burning you and the wind from blowing at you. Your roof asks little in return, but eventually, it may need some care. The people of Royce Roofing are here to help you and your roof.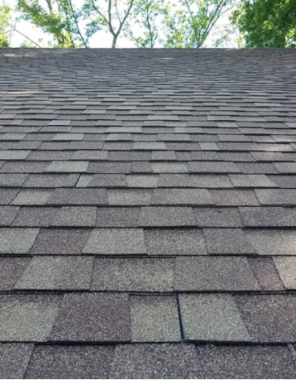 If your home has an asphalt shingle roof, it was built efficiently.  Asphalt roofing costs less than other roofing options and performs well for about twenty years. They are resistant to hail and high winds. These shingles come in a variety of colours and textures as well.
Asphalt shingle roofing is a relatively new invention. First used in 1903, they have become prevalent, as they offer a robust and attractive finish to any home. And are a popular roof covering because they are effective at protecting homes from the elements and have a low initial cost.
Unfortunately, if you are researching roofing repairs online, your roof isn't doing so well at the moment. The elements have damaged it. The wind tore away a few shingles. The corners are curling. A handful of shingles cracked after becoming brittle with age. You have a leak, but you don't know where it is. Algae and moss are causing premature ageing.
You may have detected some of the tell-tale signs of damage, but haven't noticed any cosmetic problems on the exterior. If you have water entry, mould, or stains, it is the time to jump into action. As soon as you notice a problem with your roofing, it would be best if you repaired it as quickly as possible. Even minor issues can turn into widespread damage when ignored. By letting time go by, you may end up having far higher expenses when you do decide to repair or replace your asphalt shingle roof. Severe storms cause more damage to a neglected roof than one that home-owners have adequately maintained.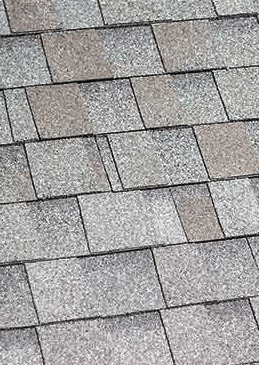 You need to contact a roofing repair company, like Royce Roofing. We can help you assess the damage and find leaks. Then we will come up with a plan to keep your roof in shipshape.
If the damage to an asphalt shingle roof is widespread, that is about half the shingles are showing signs of wear and tear, we will probably advise you to re-roof. This is also the case if your roof is nearing twenty years. Repairs in these cases will end up being more expensive than simply replacing all of the shingles. Don't worry, Royce Roofing will help you pick the right shingles for your new roofing. We will get the job done right, at a competitive price.
If only a few shingles require repairs, then our roofing specialists will quickly make these fixes. Our roofers will find evasive leaks. We will replace any missing or cracked shingles with new ones. Your roof will look like new.
The people here at Royce Roofing are here to help you repair your asphalt shingle roof. We don't mind your questions, so don't hesitate to fill out our "Contact Us" form here on the website or give us a call. We will get back to you quickly with the best solution for your roof.