Roof Painting services in Melbourne
If your roof has lost its original pizzazz, and is lacking colour or looking a little dull, it's time to enlist the help of roof painting services in Melbourne. Roof painting in Melbourne is a great way to restore the original look of your home while protecting your roof against the harsh elements of the Melbourne climate. Whether you've got a Colorbond steel roof or roof tiles, a good roof painting service in Melbourne should accommodate for your needs and be able to get your home looking back up-to-scratch. Let's take a look at the benefits of roof painting in Melbourne, and why Royce Roofing are your team of choice for everything roof.
Damage prevention
One of the main reasons to ask the team at Royce Roofing about roof painting is if you want to prevent damage to an older, fade roof. A new paint job can help to prevent damage to your roof and even seal small cracks in your roof which are likely to turn into larger ones. Royce Roofing repaint your roof using a proven method of roof coating. First of all, we start with a pressure wash of your roof – water coming out at 4000+ psi to get your roof back to its original surface. Then, a 4-coat system on all tiles is used: 1 primer coat, 2 base coats of full colour and 1 protectant coat to prolong the life of your newly painted roof.
This is a preventative measure, ensuring your Melbourne roof has a long and healthy life.
Damage repair
Melbourne weather isn't exactly forgiving. Or consistent either. In fact, it changes all the time, with blistering heat one minute and torrential rain the next. Your roof is the defender of your home against these elements, making sure they don't penetrate through to the inside of your home, and keeping everything watertight. Heavy rain and boiling heat both take their toll on your roof's paint job, causing discolouration and paint fade. Repainting your roof protects your home from the harsh Melbourne weather. A top quality roofing team like Royce use primers, extra thick coats of paint and a protectant coat of paint which not only extends the life of your roof tiles, but also makes it look as good as new.
Benefits of hiring Royce Roofing for roof painting:
Affordable
Depending on where you go for roof painting in Melbourne, it will cost a lot less than an entire roof restoration. Royce Roofing experts may inspect your home and find that apart from the paint job, your roof is in adequate condition. If this is the case, then the only services you pay for is a clean and a recoat, saving you potentially thousands of dollars. Other Melbourne roofing businesses may tell you your roof needs more work than it actually does, so if you suspect this may be the case, get in contact with Royce Roofing today.
Modern products
The products we use to paint roofs have come along way since the 1970s when roof painting in Melbourne first became popular. Back then, they hadn't quite figured out the winning formula for repainting roofs, leaving a negative view of roof painting and its lack of effectiveness. Today, products have been proven to work, giving your roof a lasting paint job. Royce Roofing never use less than one coat of primer and two to three coats of paint on your roof, guaranteeing an effective and durable paint job.
With so many roof painters available in Melbourne, it can be tricky to pick the right business. Anyone with a paintbrush and a tin of paint could rock up to your place and call themselves a roof painter, so it's important you go with a highly-regarded business with great reviews and loads of experience. For many years, Royce Roofing have been Melbourne's go-to business for everything roofing. If you need a recoat, it's a wise choice to go with Royce!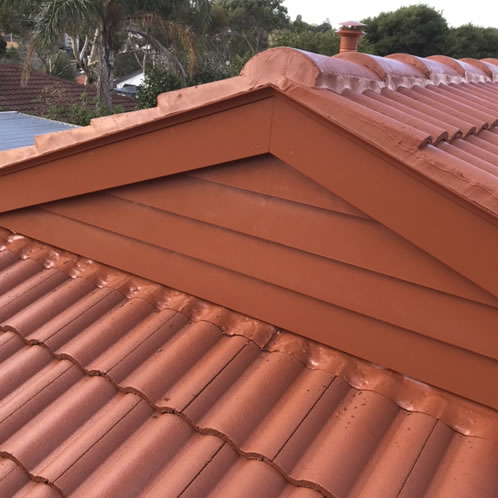 Use our REQUEST A CALL BACK form and we'll call you back with a quote asap.
Roof Tile Painting & Repainting Examples
Title Yard & Office:
5-6 Rosemary Court,
Mulgrave Victoria 3170
Free Call: 1300 080 567
Email: info@royceroofing.com.au

Anton Ermakov
22:04 30 Nov 22
I bought prima and paint for my roof there. The product quality is awesome. Highly recommend.

Nikesh Nanoo
08:35 22 Nov 22
Had my roof done in August and everyone was very helpful and friendly - it was a big job and fairly reasonable having obtained other quotes. Other companies also charge $$ for replacing tiles and other small items whereas RR included them.A few days ago, I heard a tapping sound coming from the ceiling and contacted Royce Roofing to have a look and see if they could fix the issue. They followed up with me and got someone to come out immediately. Upon checking, they discovered small cracks on two tiles which they replaced.Very happy with my experience from obtaining quote through to after sale warranty - highly recommended.

Jo Ma
04:36 25 Nov 21
It's not easy to find good roofers; based on online reviews, we decided to try Royce Roofing. Hannah from Commercial Sales used a drone to provide us with evidence as to the state of our roof. Utilising this technology meant that we were able to see for ourselves the condition of our roof. Hannah was honest and straight talking and she kept us in the loop as to how long it would take for us to have our roof repaired.With all the storms Melbourne is experiencing; all roofers are flat out right now. It was worth the wait to get Dale to do our roofing repairs. Dale treated our place like his own and gave us excellent roof maintenance tips. Dale worked hard to complete our job in a time efficient manner whilst also doing a high quality repair. The outdoor area was hosed down and cleaned so that there was no damage to our plants/planter boxes below. Dale was polite, friendly and honest. Once again, photos were provided as evidence of the job Dale completed.The service provided from Royce Roofing from the receptionist, to sales, roofers and the accounts department is professional and attentive. The management of this company are obviously working hard to create a great environment for their team and are to be congratulated. Thanks Royce Roofing.